Highlights

Since its release in 1985, SEKKISEI has been helping women
across the world achieve beautiful, translucent skin with the power of oriental herbal ingredients.



***************************
WHITE WASHING FOAM 124ML
Retail size with box
Retail Price - $35


Smoothly removes dullness* and cleans pores.
Facial washing foam to support skin regeneration.

Face wash with moist and dense foam rich in oriental herbal essences, supporting the regeneration of skin to create snow-like translucent skin. Compounded with oriental herb and plant-derived washing ingredient, Ritha tree essence, which creates fine foam that removes old cornified layers containing melanine and clogs in pores. Smoothly washing them away without burdening the skin.
Skin feels soft, moist and refreshing after washing, instead of feeling parched.



How to use:
Wet the face and palms first. Then lather it well between the palms with some water (cold or lukewarm).
Wash the face with the lather and rinse thoroughly.

WHITE POWDER WASH 100G
Retail size with box
Retail Price - $44


Suitable for all skin types, great for Combination !#!amp!*! Oily Skin!
Skin-clarifying powder wash that leaves skin brighter than and as fine as freshly fallen snow.




Texture:
Fine, pure white powder wash that instantly foams into a luxurious lather.


Oriental Plants:



Reviews:
"After rinsing, I could see that my skin complexion had brightened up after a continuous usage for about a month. And it did leave my skin with a dewy effect and not stripping my skin moisture at the same time. At first I was kinda skeptical about the product but after reading so much positive reviews about the product, I decided to give it a try. And it was really as good as what those reviews claimed to be. " - dailysnippetsoflife

"i kinda expected the foam to be very little and very lightly dense! however, the foam generated was sooooo fluffy and soft, i thought it can be compare with the foam from a foam cleanser! even better! As i massage the foam on my face, i can totally feel that it's very soft! it didn't feel uncomfortable at all as the there was enough foam for massaging! best thing is, after i rinsed off the foam, my face felt SO soft and moisturized!" - princessbeautyblog

"It does a wonderful job throughly cleansing my face both in the morning and in the evening. My face feels
cleaner and brighter with this." - lenallure

Test on cleansing power by blogger, ivory-rose:



How to Use:
1. Wet face and hands
2. Pour out 20-cent coin size of powder and add water to lather
3. Work lather on face and rinse off

*****************************

WHITE LIQUID WASH 140ML
Retail size with box
Retail Price - $46



Suitable for all skin types, great for Dry !#!amp!*! Sensitive Skin!
A mild cleansing face wash that removes old keratin and impurities but also gentle on the skin.
Dull !#!amp!*! lack-lustre skin is a cause for concern to women. Even the best make-up is unable to blend due to dull skin ridden with impurities. Sekkisei White Liquid Wash effectively removes tired surface cells and impurities while prepping skin for optimal absorption of beauty agents, unveiling clear, velvety-smooth skin. The "Milk drop formula" foams richly with plenty of moisturizing ingredients derived from oriental plant essence.
Recommended for skin in need of translucency and moisture surge.



Texture:
Soft, foamy texture with a relaxing and refreshing scent that feels gentle on skin


Oriental Plants:


Reviews:

One week of using Kose Trial Kit, including Kose White Liquid Wash - miriammerrygoround



"When you added in a little bit of lukewarm water with the liquid wash, the texture would turn very smooth and massaging them into the skin became easy. The liquid wash doesn't leave my skin feeling all tightened up after rinsing them off with lukewarm water. My face looked very squeaky clean and smooth." - dailysnippetsoflife

"This cleanser quickly beats Nature Republic and Belif to become my number 1 favourite cleanser. This cleanser may look like a cleansing milk, but is actually not. The texture isairy and light, and will turn into light foam effortlessly in the presence of water and simple lathering. With this cleanser, I only need half the time I usually spend on cleansing my face!" - lavendergarden90



"I love how after I use it,it doesn't leave my skin feeling tight.It just makes it feel clean and soft." - liyanahanim



After cleansing, my skin is smooth, supple and hydrated. There is no dry and irritating tight feeling left after cleansing,
which is occasionally felt when using other facial wash. My skin appeared to be fairer afterward and I cannot
stop touching my skin to feel the smoothness! - cecedingding

How to Use:
1. After wetting hands and face, dispense 1-2 pumps onto palms
2. Add cold or lukewarm water, then lather into foam and wash face
3. Rinse off with water


***************************
SEKKISEI SUNPROTECT ESSENCE GEL SPF50+/PA++++ 35ml





Water-based

An ultra-lightweight sunscreen gel with compounded oriental herbal extracts, giving skin a boost of moisture in addition to full-spectrum UV protection

Blends readily and gives lasting hydration.


- SPF50+/PA++++ thoroughly protects the skin from UVA and UVB rays which cause photoaging, sunburn and pigmentation.

- Compounded oriental herbal extracts care for the skin with double the amount of Coix Seed extract compared to the previous formula, plus newly added Akebia extract for extra skincare benefits

- Formulated with Porous Powder to protect skin from external aggressors like smoke and air pollution

- Smooth Gel retains moisture in the stratum corneum while leaving skin silky smooth

- Splash Polymer molecules burst on contact with skin and blend in instantly







Ultra-lightweight, non-sticky texture blends readily into skin, for comfortable daily use
Minimal oil content is used to keep the texture lightweight and hydrating
Works as an excellent make-up base and may be used for the face and body





Suitable for use on face and body.
Take an adequate amount of the product, and spread evenly over your skin.
When removing, be sure to lather up your face wash or body soap sufficiently before giving your skin a thorough wash.
Does not require the use of a makeup remover.


Enjoy the sun, at ease.



"It has a lotiony gel-like consistency. There's no issues of white residue or white cast. It gives hydration and a dewy finish but does not feel sticky or heavy on the skin at all. it's very hydrated and no white residue. I'm impressed that it protects my skin from the sun quite well." - onesundayinmay




***************************


KOSE SEKKISEI Emulsion 70ml



A whitening emulsion that maintains the skin's ability to retain moisture. Balances the moisture level in the horny layer while delivering whitening effects. A quick absorbing, lightweight moisturizer with highly emollient formula that brightens and softens skin. Contains Vitamin C to reduce melanin production, prevents inflammation, freckles and ageing spots. Suitable for all skin types.

Bottle comes with pump!




Light and watery texture




After cleansing, use KOSE SEKKISEI Lotion, followed by KOSE SEKKISEI Emulsion.




For oily skin/combination skin, dispense one pump on the cotton pad, then sweep it over the face in the morning and evening after applying lotion. For dry skin, use two pumps. If you are using serum, then use emulsion after the serum. Lotion !#!gt!*! Serum !#!gt!*! Emulsion



***************************
SEKKISEI White UV Gel 80g
SPF50+/PA++++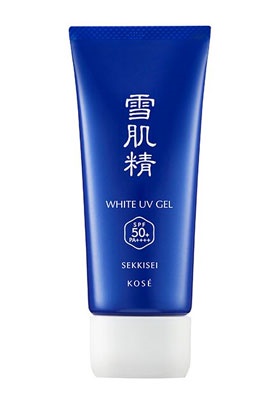 Feels lightweight to apply, with no burden on skin. This sunscreen beauty gel cares for your skin while protecting its natural translucence and protection from future dark spots. Sunscreen beauty gel with coix seed complex.

Balances:
Contains coix seed complex, packed with the goodness of coix. It prevents rough skin, making it hydrated and smooth. Increases translucency: Rich in oriental herb extracts. It hydrates your skin, so the more you apply, the brighter and more translucent your skin will be.

Comfortable:
Contains smooth gel. It feels hydrating to apply, and leaves skin feeling smooth and silky. Protects from the external environment damage (such as UV rays, dryness, and fine particles in the atmosphere), and prevents dark spots and freckles caused by sunburns.

Base Makeup Effect:
Makes skin smoother, improving the longevity of makeup such as foundation.

Easy Removal:
Easily removable with regular facial or body cleanser.
Gentle "modern floral" scent common to all SEKKISEI brand products.
Suitable for face and body.

How to Apply:
Apply a sufficient amount to skin evenly.
When using on the face, use as the final step of your morning skin care routine.

*If insufficient amount is used, product will not achieve sufficient UV ray protection.
*Re-apply diligently in order to maintain sun protection effects. Re-apply after you have wiped your skin.

Click below for more Kose products!