Highlights

Kinohimitsu

Collagen Diamond 16's / Collagen Men 16's

KINOHIMITSU COLLAGEN DIAMOND 5300MG



As featured on HerWorldBeauty Awards for Readers' Choice !#!amp!*!
Winner for Best Skin Supplement (Aesthetics !#!amp!*! Beauty Awards)




Perfect for holiday~





Talked, raved and loved by bloggers


Bring it everywhere you go!


As raved by Jayne:
"I thoroughly enjoy the drink because of its sweetness and I was very surprised to learn that it is sugar free! The sweetness of the drinks are derived from the natural fruit extracts! Also, the collagen in the drink are from deep sea marine fish's scales, and that means high quality and pure form of collagen!"

"I don't usually say things like that but I highly recommend implementing Kinohimitsu as part of your daily routine. I am so in love with it that I even bought some more, just to stock up for both Vernon and I, hehehe.








MOST AFFORDABLE 100% NATURAL BEAUTY COLLAGEN IN THE MARKET
Effective, healthy, and gives you a healthy, radiant glow ?


Kinohimitsu Collagen Diamond 5300mg
Kinohimitsu's collagen is extracted from the scales of DEEP SEA SALMONS, thus explaining the high quality and purest form of collagen found in our drinks.

No Fishy Taste
Pure !#!amp!*! High Quality

EFFICIENT ABSORBENCY OF COLLAGEN BY OUR BODY


Firm and moisture-plumped skin in a bottle

Kinohimitsu J'pan Collagen Diamond 5300 Drink comes with 5300mg of Collagen Peptide specifically designed for mature skin to restore its youthfulness, resilience and radiance.

Compared to our skin's natural collagen, Collagen Peptide has a shorter molecular structure but because of their similarity, Collagen Peptide is easily absorbed by our skin. The drink actively boosts collagen synthesis and repairs damaged collagen fibres to minimise the signs of ageing such as fine lines, wrinkles and dryness. See your skin visibly lifted and moisture-plumped with Kinohimitsu J'pan Collagen Diamond 5300 Drink!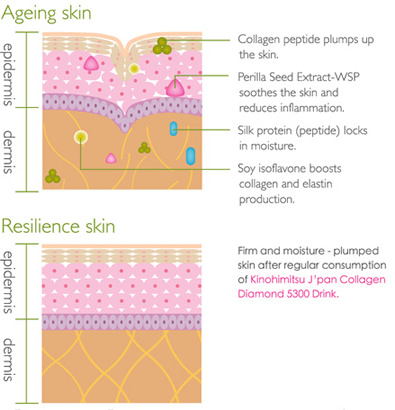 Freeze your age

Collagen in the skin's dermis layer is like the spring in a mattress that determines skin's firmness and suppleness. In between the spring is the moisture content. When skin lacks moisture, wrinkles will inevitably form. This results in droopy eyelids, saggy cheeks, wrinkly neck, flabby arms and buttocks. Hence, we need to replenish collagen to optimise its synthesis in our body.

Taking collagen is like adding more reservoirs to retain moisture within the skin, so the skin feels soft and supple. Kinohimitsu J'pan Collagen Diamond 5300 Drink's exclusive formula also contains silk protein that acts as a powerful moisturising agent while U. S.-patented Perilla Seed Extract helps to protect skin cells against free radicals, prolonging the firming and hydrating effect within the skin.

Kinohimitsu J'pan Collagen Diamond 5300 Drink
– the one and only beauty drink you will ever need!





Kinohimitsu Collagen Men 5300mg


Having oily skin? Enlarged pores? Fine lines? Tired and lacking of energy? Blemishes?


Kinohimitsu Collagen Men Drink is the FIRST ever collagen drink specifically catered to satisfy the needs of men's skin.

Infused with 5300mg of Collagen Pepetide as well as excellent moisturising ingredients, Kinohimitsu Collagen Men Drink aids in:

- Reduce excessive oil production and creates a shine-free complexion
-Reduces and prevents blackheads, whiteheads and blemishes
- Tightens pores for smooth skin
- Plumping up skin
- Smoothening fine lines
- Regulating oil production
- Healing facial scars and restoring youthful vitality to the skin
- Protects, soothes and heals damaged skin cells and scars







Get clearer, smoother, and visibly lifted skin in just 6 days.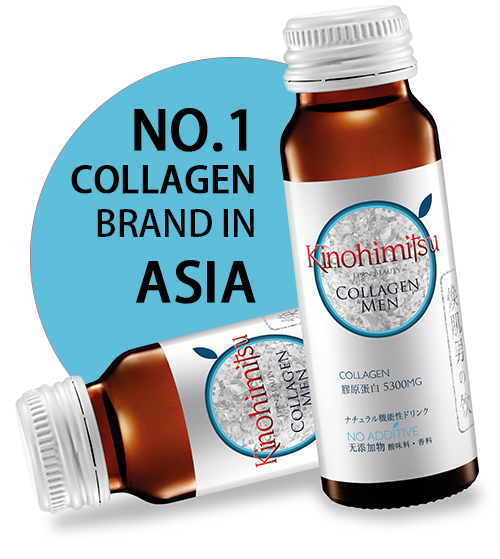 100% Natural ingredients.
No chemical, no preservatives, no sugar added, no hormones, no artificial colouring/flavouring.


*No hormone means that even females (who have oily - combination skin) are able to take Collagen Men too. Those who have been taking for a long-term basis have seen a reduction in blemishes, blackheads, pimples and less oil on their face!