Highlights
Klik gambar dibawah untuk memilih opsi.
Yeelight Sensor Light Mini(-502.600)

Pilih
Opsi

Lampu Langit-langit Xiaomi Yeelight dengan Remote Control

Pilih
Opsi

Yeelight Jiaoyue 480 Starry dengan Remote Control(+628.300)

Pilih
Opsi

Yeelight Jiaoyue 480 White Ver dengan Remote Control(+628.300)

Pilih
Opsi

Yeelight Jiaoyue Drop Light(+628.300)

Pilih
Opsi

Yeelight Jiaoyue 650 Starry dengan Remote Control(+1.047.200)

Pilih
Opsi

Yeelight Jiaoyue 650 Ver dengan Remote Control(+1.047.200)

Pilih
Opsi



ALL MODEL READY STOCK IN SG!!!






==============================================
TYPE 1 - YEELIGHT CEILING LIGHT

Yeelight LED Ceiling Light - The World's First Lamp to Support both WiFi and Bluetooth
The Yeelight smart ceiling light is deigned as sporting white color in a circular shape. It equipped with 240pcs OSRAM LEDs of a color rendering index that is up to 95Ra, providing museum lighting effect. The dual-chip three-way dimming system allows a flexible adjustment of brightness and color temperature. In addition, a moonlight mode which gives the look of the moon when turned on is surprisingly comfortable. Being a smart lamp, the light can be controlled by smartphones through WiFi or Bluetooth. It also comes with a Bluetooth remote controller that allows you to remotely switch on and off your light without necessarily being in the same room. What's more, a innovative quick coupler module lets you push and slide to lock the lamp into holder with ease.
Ever since then, life is surprisingly easy!
Simple, Beautiful and Intelligent
? 5min Fast Installation: innovative coupler module for quick assemble and disassemble ( II electric shock resistant )
? 95Ra: 240pcs OSRAM LEDs of high CRI provides museum lighting effect
? Cozy Moonlight: the moonlight mode offers warm and cozy lighting
? IP60 Dustproof: protects it from dust, and could get rid of the pesky insects
? Dual-chip Three-way Dimming System: color temperature range from 2700K to 6500K, brightness range from 0.1Lm to 2000Lm
? Bluetooth Remote Control: Bluetooth remote controller allows you to remotely switch on and off freely
? APP Remote Control: control via smartphones by WiFi or Bluetooth
? Mi Band Linkage: turns off automatically when you fall asleep
? 25000 Hours Lifetime: constructed by premium materials and specified processes
? Efficient Heat Dissipation: unibody aluminum plate maintains highly efficient cooling

Caution: search Yeelight App or Mi Smart Home App in App Store or Google Play, supports Android 4.4 and iOS 8 systems or above.
Work with IFTTT - brings everything together
If This Then That ( or IFTTT ) is both a website and a mobile app that launched in 2010 and has the slogan "Put the Internet to work for you". The idea is that you use IFTTT to automate everything from your favourite Apps and websites to App-enabled accessories and smart devices. IFTT has become the ultimate automation service for small tasks between Internet-connected services. Whether on the Web or with selected Apps on iOS and Android, IFTTT can handle anything its member service "channels" support. When user-specified events occur, follow-up tasks are triggered and handled.
There are numerous combinations ( also called "recipes" ) on IFTTT that can make your life easier. These links consist of just two elements: a Trigger ( If This ) and an Action ( Then That ) – For example, If you own a Xiaomi smart light, you could use IFTTT to automatically turn on the light every time you're tagged in a Facebook photo. In another example, you could set your light to be turned on, if motion is detected in your home when you're not at home.

The product has passed Alexa certification and could be voice controlled by Amazon Echo






==============================================
TYPE 2 - YEELIGHT JIAOYUE DropLight
Xiaomi Yeelight JIAOYUE Pendant Light Features
? Minimalist design matches with various decoration style
? Using down lighting design to ensure even lighting
? Heat-dissipation hole on the top to prolong LED lifespan
? 0.8mm thicken mental body, uneasy to deform
? 100cm adjustable light chain meets a various need
? Three-layer insulated cable to ensure safety
Package Content
1 x Pendant Light
3 x Light Bulb
1 x Acessory Kit
1 x Chinese User Manual




==============================================
TYPE 4 - YEELIGHT JIAOYUE 480
Pure-white
Main features
? Adjustable color temperature between 2700K and 6000K
? Adjustable brightness and luminous flux is up to 20lm
? Unique moonlight with ultralow brightness of 1.5lm
? High color rendering index ( CRI ) up to Ra95
? 5min fast installation design
? IP50 dust-proof and insect prevention
? Free Bluetooth remote control ( built-in CR32 battery ) suitable for Yeelight ceiling light series
? Remote control the light via MIJIA APP or Yeelight APP
Note
Yeelight ceiling lights, all products with WIFI controller support Alexa and Google Home
==============================================
TYPE 4 - YEELIGHT JIAOYUE 650


Xiaomi Yeelight Led ceiling Pro 650mm RGB 50W work to mi home app and google home and For amazon
Echo For xiaomi smart home kits
Yeelight LED Ceiling Light PRO (650MM) This is RGB Edition The Ceiling Light You Desire 5 Mins Fast Installation?Cozy Moonlight?IP60 Dustproof?Work with IFTTT.And Google home ,For Amazon Echo.
==============================================
TYPE 5 - YEELIGHT SENSOR CEILING NIGHT LIGHT
The LED ceiling light features modern and simple style, not only an illumination instrument but a perfect ornament for your house. Using high-performance LED chip, the light is safe and energy-saving to use. The white light will create a warm and comfortable atmosphere for you. It's suitable for lighting for kitchen, balcony, aisle, corridor or other places.

Main Features:
•Simple shape
Unique simple design, not only lighting but also decorating your house.
Using PMMA lampshade material makes uniform light, translucent strong.
•Built-in dual sensor
Built-in infrared human body sensor, sensitive to your trace.
When someone comes by, it will bright.
After 60 seconds, if nobody moves, the light will automatically shut off.
With a light sensor, the light is automatically turned off during the day without the need for a light
•Anti-mosquito design
Anti-mosquito stickers design, effectively solving the problem of flying insects in the lampshade.
No fear of mosquitoes, no worries about life trivia.
• Color rendering index Ra up to 95, highly restored color
• Energy saving and environmental protection without flash
• Intimate power protection case to prevent danger caused by accidental contact
•Widely application
• It can be placed in the bedrooms, study rooms, dining rooms, hotels, etc.
Specification
Specifications

Brand: Yeelight
Features: Eye Protection
Shade Material: PMMA
Style: Artistic Style,LED,Modern/Contemporary,Simple Style
Suggested Space Fit: Bedroom,Dining Room,Hallway,Kitchen,Living Room,Study Room
Type: Ceiling Light
Suggested Room Size: 10 - 12 square meters
Voltage ( V ): AC220 - 240

Dimension and Weight

Package size (L x W x H): 26.00 x 26.00 x 7.30 cm / 10.24 x 10.24 x 2.87 inches
Package weight: 1.0780 kg
Product size (L x W x H): 25.00 x 25.00 x 7.10 cm / 9.84 x 9.84 x 2.8 inches
Product weight: 0.7400 kg

Package Contents

Package Contents: 1 x Ceiling Light, 2 x Self-tapping Screw, 2 x Expansion Tube, 2 x Silicone Gasket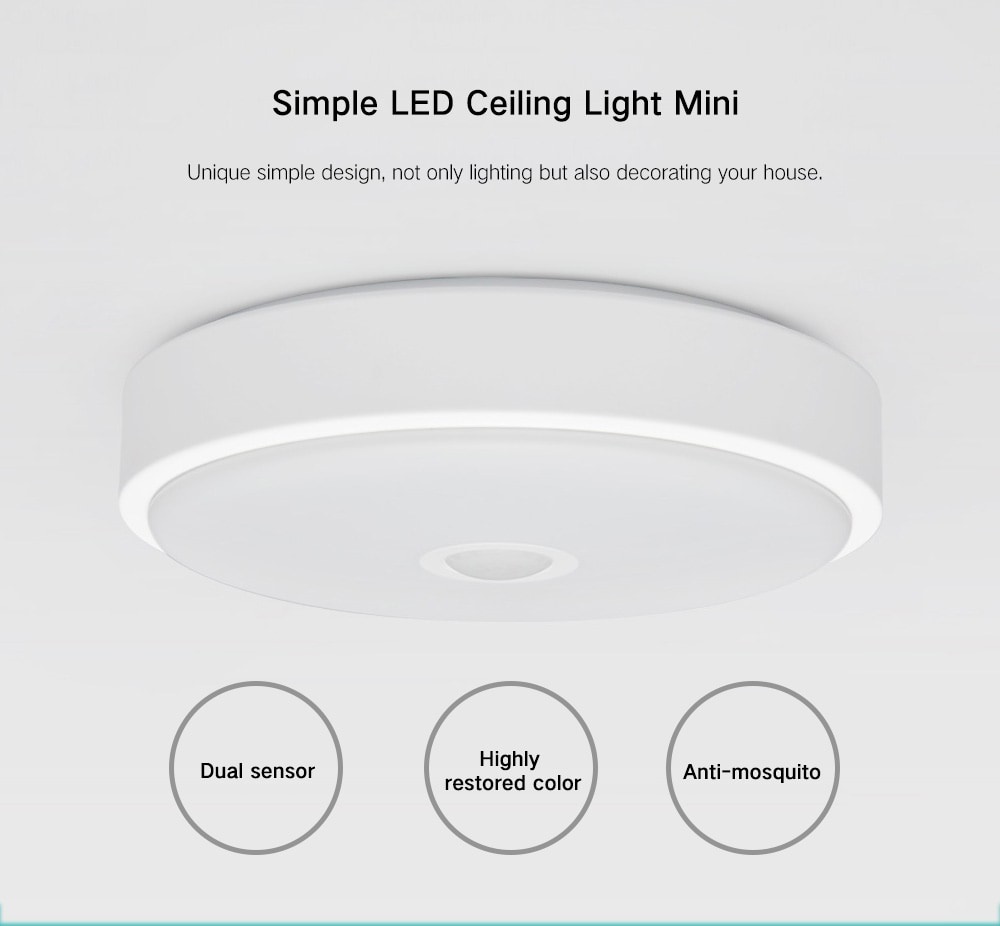 EXPORT SET