Highlights
BEST SELLING PRODUCT IN QOO10 SG




Face masks are the perfect supplement to our everyday routines and a quick fix for problem areas. Whether you're suffering from a surprise breakout or painfully dry skin, the right mask speeds up healing with next to no effort.

But there is no one-size-fits-all mask, so to speak. What you need is a formula designed especially for your skin type.

ORIGINS, THE MASK EXPERT
brings you different mask for different skin type






Origins Masks and Cleanser now come in travel size!
Perfect for trial and multi-masking to get the best results!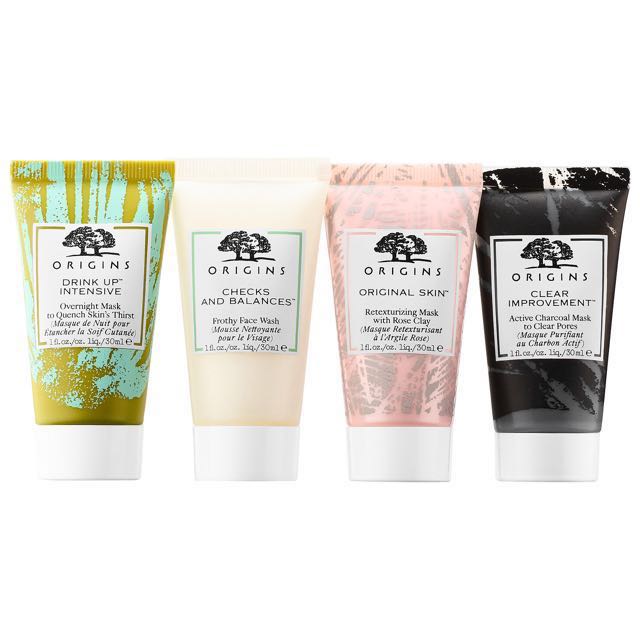 ORIGINAL SKIN


RETEXTURING MASK WITH ROSE CLAY



Glow big-time with this two-in-one mask!

Made with Mediterranean Rose Clay, Canadian Willow Herb and exfoliating Jojoba beads, Origins Original Skin Mask thoroughly deep clean your face while soothing your mind with a beautiful scent.




When you rinse it off, the jojoba beads in the mask buff away dead skin cells and dried-up sebum while refining skin's texture.

Pores appear to vanish. Clarity is restored. Glow is instant.





"When I used the Original Skin Retexturizing Mask, the first thing I noticed was that it smelled just like rose, which I found quite pleasant and relaxing, and not too overtly perfume-y. It also has a very nice creamy texture, unlike some clay masks which can be dry or crumbly. There are also really tiny jojoba microbeads, which I like because they exfoliate without being too harsh on your skin" -http://musicalhouses.blogspot.com





Directions
Use Origins Original Skin Mask 1-2 times per week as a boost to your regime.

Step 1: Wash face with your favourite cleanser.

Step 2: Apply mask to clean skin. Avoid eye area.

Step 3: Leave on for 10 minutes.

Step 4: Wet fingertips and massage face in circular motions to exfoliate.

Step 5: Rinse well and follow with your serum and moisturiser.





CLEAR IMPROVEMENT
ACTIVE CHARCOAL MASK TO CLEAR PORES


When environmental toxins, dirt and debris get under your skin, its waste-filtering system gets jammed, pores get clogged, skin looks cloudy. Nature's complexion clean-up crew gets to the bottom of skins overcast condition and clears the way for it to act its best.

This detoxifying mask gets straight to the root of things. Activated Charcoal acts like a magnet to draw out deep-dwelling pore-cloggers, White China Clay absorbs environmental toxins, Lecithin dissolves impurities. All in all, the skin is able to "breathe a sigh of relief."

PERFECT FOR: Reducing breakouts and controlling oil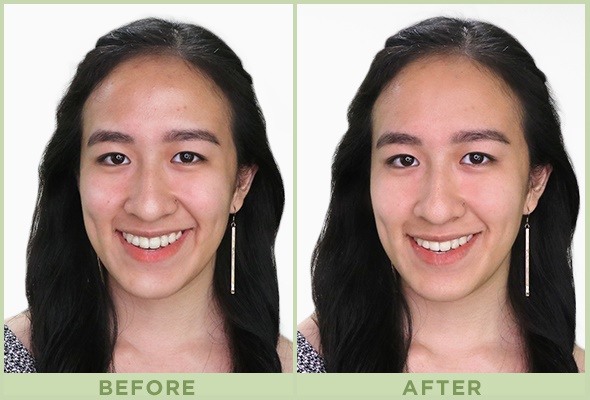 Image credits: chiamhuiy

You won't believe but I actually spot one or two small bumps surfacing the day after the night of application and it was gone on the third day. - chiamhuiy



Image credits: im-chacha

I love this the most! It brightens my complexion right after my first use. - im-chacha




DRINK UP
10 MINUTE MASK TO QUENCH SKIN'S THIRST


A rich mask to quench skin's thirst.

Out of the tube, this mask could be mistaken for moisturizer—and you wouldn't be totally wrong. Parched skin drinks this stuff up. Despite its dense consistency, this mask absorbs within 10 minutes. The mango butter in it deeply hydrates skin, while powerful apricot kernel oil quells breakouts.

When skin faces a marathon of dehydrating circumstances, fluid levels can run too low. The steady sips of moisture that sustain it under normal conditions simply don't hold water. Smoothness evaporates and skin feels tight and flaky.

Best for combination and dry skin types, this 10-minute mask features algae extracts that deliver an extra helping of hydration while emollient-rich apricot kernel oil leaves skin soft and supple.




Directions:
-Spread a generous layer over clean face (avoiding eye area).
-Wait 10 minutes.
-Rinse off.
-Use once a week, more often if skin is dry.






DRINK UP INTENSIVE

OVERNIGHT MASK TO QUENCH SKIN'S THIRST



Skin depends on water for its youthful functioning. But all day long, skin loses vital moisture and the busier you are, the more it loses. This intense moisture replacement mask with avocado and apricot kernel oil deeply and instantly quenches compromised moisture reserves and builds a reservoir for tomorrow. Best for dry skin types, Japanese seaweed repairs skin's barrier to prevent future dehydration and signs of premature aging.

If it seems nothing can bring your face back to life, reach for this overnight mask. A blend of apricot kernel oil, mango butter, and avocado oil provides an instant surge of hydration. Even better, it seals in moisture while you sleep—boosting your skin's ability to heal itself.

What else you need to know:
Drink Up™ Intensive Overnight mask to quench skin's thirst is a versatile product, and is great for travel, shaving, and dry body patches like elbows and knees.


Directions:

-Twice a week or as desired, gently massage onto clean skin at bedtime.

-Tissue off excess.
OUT OF TROUBLE
10 MINUTE MASK TO RESCUE PROBLEM SKIN
Take control of your complexion with the 'Out of Trouble' 10 Minute Mask from Origins, a rescuing face mask remedy that works to combat skin problems and banish impurities.
When skin is too-slick or when more pressing problems start to pop up, it's Origins to the rescue to keep skin out of trouble. Nature's trouble-shooters, including super-absorbent Zinc Oxide and Sulfur, calming Camphor rapidly responds to problem skin's plight with a three-part plan - sop up oily-shine, slough off sticky, dead cells, and sweep away irksome debris. Together they steer skin clear of slippery situations, refine rough texture and pull the plug on troublemakers to oust potential outbursts.
As the name suggests, this mask rescues your skin from bad zit-uations. It treats all types of acne with salicylic acid and soothes redness and irritation with camphor. You can apply it directly over a spot or spread it over your entire face. Just wait 10 minutes and bam—results!


Leaves your skin feeling clean and clear, the mask will refine skin's texture and help prevent further breakouts.
Ideal for oily and combination skin.


Have you ever had those days when you get the biggest, reddest, angriest and most painful zit on the eve of a big day? This will be your lifesaver – it really works! If the zit is a low- or medium-level threat, this mask will bring it down to an almost invisible level the next day. - beautifulbuns.wordpress.com


Directions:
-Layer over clean face and throat.
-Avoid eye area.
-Wait 10 minutes.
-Remove with damp washcloth.


GINZING

PEEL-OFF MASK TO REFINE AND REFRESH





Get mask a-peel in mere minutes. This refreshing peel-off mask is fortified with Coffee Beans, Panax Ginseng and our gentle Fruit Acid Complex. It helps lift away dull, dead skin plus dirt and debris to leave you looking clear and radiant. All while refining pores, too. Skin looks smooth, feels totally refreshed. Pores snap back in to shape!



Image credits: www.marjsia.com


Micro-dirt and stubborn dead skin cells are peeled off as you remove the chrome-finish mask. It leaves the skin feeling smooth, tighter and instantly glowing after removing it. - marjsia

Directions:
Just apply an even layer to clean, dry skin.
Avoid your eye area, brows and hairline.
Let it dry.
Then smile to loosen and gently peel off to reveal your newly radiant skin.






Basically, multi-masking involves the use of several masks at once depending on the needs of your skin.

Different areas of the face require different fixes—you can't treat a shiny T-zone the same way you would flaky cheeks.

So, multi-masking lets you tailor a treatment to your unique skin type, solving a medley of problems simultaneously.



CHECKS AND BALANCES
FROTHY FACE WASH




Origins Top 10 Bestseller

This clever cleanser balances faces with dry and oily places. This gentle, frothy face wash with Broad Leaf Kelp Extract, Wheat Protein and Tourmaline discourages excess oil production while protecting dry prone zones. Plus the aroma of Bergamot, Spearmint and Lavender refreshes. Skin feels comfortably clean. Never tight, pulled or parched.

Active Ingredient:



Natural Scents:



Formulated without chemicals and synthetics.




Raving reviews




Checks and Balances keeps my dry areas tamed and my oily areas fresh all while giving me skin that's more than ready to hit the sack! - thebeautyjunkee




Reader's Choice for Face Cleanser

Rich texture that lathers into a frothy foam!



Available at 15ml for Travel
Watch makeup melt away with this gentle, deep cleansing jelly. This lightweight gel formula transforms into a milky cleanser and rinses easily to leave skin feeling soft, looking positively glowing. Willowherb and Coconut Oil dissolve waterproof eye and longwear face makeup, impurities, sunscreen, and excess oil as the lightweight gel formula transforms into a milky emulsion.
Key Benefits:
- Removes waterproof and long wear makeup.
- Cleanses skin thoroughly without drying or stripping.
- Conditions and softens.
Watch makeup instantly melt away with the gentle Origins Original Skin Cleansing Makeup Removing Jelly.





Lightweight, gentle cleansing jelly

Direction:
Apply to dry skin with fingertips or cotton pad. Add a splash of water and work into a milky emulsion.
Rinse thoroughly to leave skin feeling soft, looking positively glowing.



MEGA-MUSHROOM SKIN RELIEF
(Micellar Cleanser 30ml)





Wash away everything you know about cleansing. Our miraculous no-rinse, soap and alcohol free formula gently removes dirt, makeup and pollutants. It's fortified with Dr. Weil's signature skin-soothing Mega-Mushroom blend plus antioxidant-rich Berry Ferment. This potent formula helps support skin's resilience against environmental irritants. Skin feels totally refreshed, silky soft and completely, comfortably clean. Never irritated.

Best for: Redness and sensitive skin
Recommended for: Oil, Dry and Normal Skin



MEGA-MUSHROOM RELIEF !#!amp!*! RESILIENCE
(Soothing Treatment Lotion 7ml)



The step you never knew your skincare routine was missing. A light, soothing, watery lotion with Reishi, Sea Buckthorn !#!amp!*! Fermented Chaga that perfectly preps just-cleansed skin for serum !#!amp!*! moisturizer.
Alcohol-free and pH balanced.
Instantly refreshes !#!amp!*! rebalances skin to help soothe, calm !#!amp!*! boost hydration levels by 71%. Skin looks supple, softer !#!amp!*! healthier-looking.
Super foods like Mushrooms are nutrient-rich powerhouses. They've been used for centuries in Traditional Chinese Medicine.
This light, refreshing treatment lotion with Reishi Mushroom, Sea Buckthorn and Fermented Chaga rapidly reduces visible redness and restores resilience. Skin looks and feels healthier. Leaves sensitive skin calm, comfortable, hydrated. Alcohol-free and pH balanced.

How to use:
Shake it up to activate the formula. Pour it into the palm of your hand pat onto skin with fingertips or a cotton pad
feel skin that's instantly refreshed !#!amp!*! rebalanced. Use it twice a day.
Recommended for: Dry, Normal and Oily Skin

GINZING Energy-Boosting Gel Moisturizer 15ml



Look like a morning person. This lightweight, oil-free, energizing moisturizer instantly hydrates !#!amp!*! revs up radiance with Panax Ginseng !#!amp!*! Coffee Bean.
Instantly hydrates !#!amp!*! revs up radiance for refreshed, healthy !#!amp!*! vibrant skin.

Legend has it Coffee Beans were discovered by an Ethiopian shepherd. He found his goats dancing joyously around a green leafy shrub with bright red cherries. So he tried the beans himself. Their powerful euphoric effect was instant. Today studies have shown that Coffee has impressive health benefits from antioxidant age-fighting to memory boosting. And their energizing properties can actually help wake up, refresh !#!amp!*! restore radiance to tired skin.

Best for: Basic
Recommended for: Dry, Normal and Oily Skin



Make A Difference Plus+
(Rejuvenating Serum15ml)


This intensive serum with self-hydrating Rose of Jericho instantly helps repair skin's barrier, reinforces skin's own moisture-making ability and replenishes critical moisture to help prevent age-accelerating dehydration. Skin stays refreshed, resilient and radiant.
Repair, replenish and rejuvenate dry skin with our mega-moisturizing collection fortified with self-hydrating Rose of Jericho plus our hydrasustain complex.
Best for: Hydration
Recommended for: Dry, Normal and Oily Skin
ORIGINAL SKIN
(Renewal Serum with Willowherb 15ml)
This revolutionary new serum restores glow 5 ways:
#1: De-stress. Persian Silk Tree helps skin rebound.
#2: Smooth roughness. Chestnut Seed Extract refines texture.
#3: Delete dullness. Willowherb restores glow.
#4: Shrink pores. Algae helps reduce oil to help them appear to vanish.
#5: Minimize flaws. Blurs imperfections.
Skin looks perfected, vibrant. Gets its glow back.

Best For: Renewal and Radiance
Recommended For: Dry, Normal and Oily Skin

Mega-Defense SPF20/PA++
(Barrier-Boosting Eye Cream 5ml)

This potent protecting eye cream with skin-strengthening Opuntia Cactus helps defend the delicate eye area from the damaging effects of pollution and environmental aggressors. It provides lightweight hydration plus 100% non-chemical, irritation-free SPF protection from UV rays. Instantly brightens and renews under eyes.
Recommended for: Oily, Normal and Dry Skin

Three Part Harmony (Nourishing Cream 15ml)



-See skin come alive again with our ultra-nourishing, age-defying treatments for renewal, repair and radiance formulated with self-renewing Tazetta Lily Bulb.-

This intensely rich cream with Tazetta Lily Bulbs, White Myrtle and Japanese Knot Weed helps produce youthful supplies of natural collagen to help visibly repair skin's structure. Fine lines and wrinkles are softened. With deeply nourishing plant butters plus Vitamin E, this luscious cream renews skin's hydration levels. With Scutellaria, it helps reveal radiance, refine tone and brighten skin to impart a healthy, vibrant glow.

Best for Renewal and Radiance
Recommended for: Oily, Normal and Dry Skin

How to use: Use twice daily as part of your renewal regimen.
Step 1: Wash face with your cleanser
Step 2: Apply your serum
Step 3: Massage with Nourishing Cream


PLANTSCRIPTION (Anti-Aging Cleanser 30ml)



This gentle foaming cleanser with Anogeissus plus Jasmine Flowers and conditioning Oat Protein helps dissolve dirt and impurities and release dead cells. Leaves skin looking radiant, smooth and youthfully alive.

Recommended for: Dry and Normal Skin
Best For: Lines and Wrinkles Reduction

PLANTSCRIPTION (Powerful lifting cream 30ml)


A cutting-edge cream to visibly tone sagging contours, soften marionette lines, and restore firmness. What it is formulated to do: Advance your antiaging regimen with the most powerful lifting cream from nature that helps visibly liftsagging contours, soften marionette lines around the mouth, and restore volume.

A powerful, cutting edge moisturizer formulated to help restore skin's youthful volume !#!amp!*! firmness in just 2 weeks.

As skin ages, it loses Collagen !#!amp!*! Fibrillin, natural proteins which give skin its firmness and bounce. Anogeissus helps replenish Collagen !#!amp!*! Fibrillin for visibly improved lines !#!amp!*! wrinkles. So skin can have a more youthful look !#!amp!*! feel.

Best for lifting and firming
Recommended for: Oily, Normal and Dry Skin

How to use: Use twice daily as part of your regimen.
Step 1: Wash face with your cleanser
Step 2: Apply your serum
Step 3: Massage with lifting cream